Transmission Repair near Me

If you live around Danvers, Peabody, Salem, or the surrounding Massachusetts communities and are searching for transmission repair near you, you're in the right place! Ira Toyota of Danvers' service center is ready to help you with your transmission repair needs.
It's no secret that your car's transmission is, in part, responsible for its performance, its safety, and its overall fuel efficiency. Therefore, when you're getting your transmission repaired, you need the best.
And that's what we can offer at our service center: the best. Schedule a service appointment online or over the phone today. Keep reading to learn more about the ways our service team can help you.
Educational Transmission Guides:
Signs Your Transmission Is in Need of Repair
Here's a brief overview of problems to look for in an automatic transmission. Don't ignore these signs!
Transmission Slippage: If your Toyota is changing gears without your consent-or if it isn't changing gears when you want it to-then you might be experiencing a transmission slip. Uh-oh!
Rough Shifting: Your automobile shouldn't sound like it's about to fall apart as you shift, right?
Slow Shifting: And, it also shouldn't take a lifetime to switch between gears. Contact us ASAP if you find that there's a significant lag between pedal depression and an actual increase in speed.
Fluid Leaks: Last, but certainly not least, one of the telltale signs of a transmission issue is fluid leakage. If you start to notice transmission fluid all over your driveway, get in touch with us, ok?
However, in addition to the conventional automatic transmission, they also make manual transmissions, automated manual transmissions, continuously variable transmissions, and plenty of other technologies.
If you have a question about the warning signs for these types of transmission technologies, don't wait! Reach out to our team at Ira Toyota of Danvers so that we can tell you if it's time to schedule a visit to our service center.
Our Expert Team of Service Technicians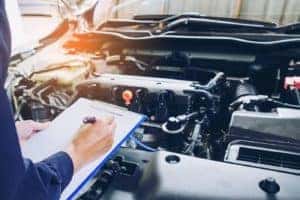 Regardless of whether you're having problems with your Toyota Corolla's CVTi-S transmission or your Toyota Tundra's 6-Speed Electronically Controlled Automatic Transmission with Intelligence (ECT-i), we can help. We're well-versed in the specific transmissions for a variety of Toyota automobiles, from the RAV4 and the Tacoma to the Highlander and the Avalon… And beyond! We won't hesitate to fix yours.
Here's the bottom line-the men and women on our service team have years of experience between them. Some of our wizards have been working with transmissions for their entire lives, so they know exactly what they're doing. Best of all, they can probably fix anything else that's going on, as well.
And, they'll treat you with the respect and courtesy that you deserve; they're true professionals!
Schedule Transmission Repair Today!
Luckily, we're just a few miles away from Salem, Peabody, or Danvers. Please don't hesitate to stop by, call us on the phone, or chat with us on our website if there's anything going on with your transmission.
We'll fix it up right away and we'll help you with all your other Toyota wants and needs, as well.
Our Reviews:
From the moment I scheduled my appointment to picking up my car, every member of the team was absolutely professional and friendly. Matt is fantastic. Very knowledgeable and even remembered me. The entire process was seamless.
Thanks to Linda Fair for making me feel comfortable about coming in last year during the height of Covid, and for following through on a promise she made to me then that I took her up on today. Everyone worked hard to get me in and out so I could return quickly to a sick family member.
They promised to wash the car after the service but did not. Otherwise, they deliver very good service. I trust their diligence to their duties for the client as well.
Crowded at 9 AM, so the wait was 25 minutes to start. Excellent service after that. (Not all employees wore masks over nose and mouth.)
I came in to IRA to in Danvers to look for a new car and I got just that. The service from the moment I walked in was excellent, Jason was very courteous, attentive and a great listener. I would definitely recommend going through Jason to get a new car.
I bought my rav at a different Toyota dealer and was going there for service.. They were starting to disappoint me with various things.. My husband brings our 4Runner to Ira so I decided to make the switch (it's also closer) and I'm really glad I did.. Everything about my experience was amazing so they will now service not just one of our Toyota's, but both.
Very pleased with courtesy and timely action. Staff is very friendly and polite. We will purchase our next vehicles at IRA. Thank you. Thank you.
great service, i really recommend this dealer. great price, cars. they are amazing they help you find the car that you need. . . .
A very good dealership to Service your vehicle needs. Great service personnel. And also for the Toyota technician who worked on my car did a great job. Thank you
Service completed in about an hour. The facility is nice and service was done to my expectations. Have owned my Highlander for 20 years and have always used Ira Toyota service.
Bruce my service advisor was excellent to deal with in arranging the service I desired. My 2015 Camry with 65,000 miles needed some periodic service including first set of brakes, first battery, brake fluid flush and cooling system flush. He arranged for me to get all current discounts posted to IRA service website. Bruce kept me fully informed on my repairs and estimated cost.
Everything went smoothly. My sales guy Akeem was very knowledgeable and explained a lot about the car. He was very polite and not pushy at all.
I was a little past due for service and was able to schedule the appointment a couple of days out from my call. I believe it took a little less than an hour and while I waited, I took a stroll to Walmart across the street. They were super friendly and my service was done before I knew it.
I always have a really good experience when I come here to Ira. Matt was wonderful and I was pleased with my service today and his expertise!
I've been using this dealership for 4 vehicles over 20 years and I've been very happy with them. I think their service is excellent, and all of the service people are very easy to deal with.
Really like the quality...wish they were more reasonable with price....sometimes it chases me away... we own 3 toyotas...1/2 the work we have done outside resources....good work but so so pricey....
Great service in a timely manner. My wife and I are new to area and it's great to have Toyota of Danvers here when we need them.
Bruce, the service advisor, is always very good to work with. Service done on time, car was clean, and quality work performed. The dealership completed the 20k maintenance and completed a service recall.
Always satisfied when I come here! Love the car wash after service and the drives to and from work to get here! Great place to get your Toyota serviced.
Great service! Excellent pricing on my new tire. Had a screw embedded in the sidewall of my tire and the service center got me in for a new tire without waiting.
This is my third vehicle leased from Ira, and it has been a good experience so far. This latest service included a recall and the provided me with a free loaner. All went well except I was a bit disappointed as my service visit included a statement that I was eligible for their vehicle buy back program. I guess I was expecting someone would talk to me about this but no one ever mentioned it??
Brought my Rav in for a recall, repairs made in record time. Great service department staff. I will certainly consider Ira for my next purchase.
Steve always helps me out and outstanding. I will continue to go there to get my vehicle serviced. Great facilities and great people work there.
I have only visited Toyota in Danvers since I've leased my car and it has been a very good experience right from the start. Thank you to Bruce and all the servicemen they're always so polite and helpful.
From the time my car was towed to Ira ,Mario kept me informed of the progress of the repairs and I was very satisfied with the results
Made what I thought would be a long day a whole lot shorter. Everything was properly taken care of, and I was soon on my way in a car that was fixed right.
IRA Toyota did a great job with the diagnosis of my car. They are very professional and helpful. Shana was also great helping me with the problems.
I've bought many cars over the years and Richie is at the top of the list of sales professionals that I've worked with. Sincere, honest, knowledgeable and responsive. If you go to IRA in Danvers...ask for Richie !
We had an excellent experience buying our certified 2018 Toyota Highlander from Ira. Our sales specialists Jack Motzi was outstanding. We wouldn't hesitate to shop there in the future and will recommend to friends and family.
Larry was so wonderful to work with during the process, it felt like he was really trying his best to help us. I never thought a car buying experience could go so nicely and pleasantly. Larry has great customer service and is a really helpful and pleasant man. I also working with Jesus in finance who helped us figure out what's really best for us. Everything went smoothly and in a timely manner. Thanks to Ira Toyota!
An outstanding dealership in all ways. We've bought several cars from Ira of Danvers and have never been disappointed with their professionalism and customer fairness. In addition we have always had our vehicles serviced by their service department and have returned again and again to Bruce Brewer as a service technician. Mr Brewer is absolutely exceptional in all ways!!
We had some problems after leaving our car for several months. IRA looked it over, replaced battery, provided Lyft service to and from. Cost not a penny.
Brought my truck and forwards annual service. Oil change, tire rotation etc. as always the experience was pleasant from start to finish. From Seanna my service advisor, my mechanic to the checkout receptionist. ⭐️ ⭐️⭐️⭐️⭐️
Very professional dealership to deal with, they have patients and very understanding with your needs, my truck was repaired in a timely manner and definitely will go back for service.
Always a great experience going to ira Toyota Always finish early and the staff was very friendly and helpful I would definitely recommend anyone with a Toyota to go there!
Like the Ira Toyota Danvers atmosphere is great! Service is great! The waiting room is spacious and super clean with tv and wifi while waiting!
Easy process buying a new car. There was no negotiation though since the market is crazy due to COVID. None the less Robin was great and helpful and attentive.
Could not have been a better experience. Very responsive and helpful. Communicated on text and email which was easy and quick. I'm a fan. Would buy another can here for sure.
A little bit of a wait for oil changes. But overall good service. Wish service didn't have to include certain things that are unnecessary. Next time I might try woburn.
Got a quote online and went in the following Sunday at noon for a lease! Was out of there in about two hours! Nothing changed about the pricing I was given online which was amazing, other dealerships seem to be a little shiesty with that (from other experiences with leasing a car) Everyone was super nice and friendly, picked up my car on the following Wednesday and I'm loving it! Only been about 24 hours with it but it's amazing 🙌🏻
Grey service set up and an excellent full service cafe in the customer waiting area. The service writers get you in be out with ease.
Have had many service dealings here and they are always best when working directly with Steve Mahan. On my latest adventure, Steve was able to help get me coverage on a known issue with my Tacoma which Toyota otherwise likely would not have covered since I am now beyond my "warranty" period (it's not listed as a recall as of yet but there is a "TSB", however, if you're beyond your warranty, you're pretty much S.O.L. in Toyota corporate's eyes). The work performed appears to be of the usual high quality, and my vehicle ...
We enjoyed our rime at our appointment. The Uber service was nice and please direct us and other customers better where the Uber driver will be. The first said we weren't there but we were as directed by service agent. He said wait by the tree outside service department wen the Uber Driver came at a different location. It was a bit frustrating and we asked the service person to call another Uber to take wife and children shopping. Thank you.
I bought Toyota sienna 2018 XLE premium. The dealership sales person was very professional delivered the car to my house which is One hour And 10 minutes away from the dealership (thank you heroes )and the transaction went smoothly all The staff were professionals. Will buy again in the future.
I love this dealership for my leasing options!!! I keep coming back. I've released through this dealership for years now. I do not plan to go anywhere else. The sales team is amazing as is the finance team!
We really enjoyed working with Clint Yung! He was very helpful on finding the right vehicle for our needs. Clint was a please to work with on this purchase.
I think most people really dread going to a dealership and going through the routine of dealing with the sales person and the " manager" but my buying experience wasn't anything like that went very smooth and manager free and I love my new Highlander
Bruce B is the service advisor I use for the last few years and he's great. My vehicle is always ready when I need it
I had a great experience here!! While there were minor set backs with my car being serviced, Denis Husidic did a great job communicating and in my opinion he was very helpful!! Thank you Denis!
I called today with an emergency and they were very accommodating and kind enough to fit me in quickly. When I got there they were very attentive. I always get great service from their service department.
3rd car i've purchased from IRA, complete and total satisfaction from Aiman, a true profession as is Bruce who has been our Valued Service Advisor over the years and had many times called or followed up to make sure we had no issue and all was well. Service is done on time and if there was a delay we were told what it was and how long the delay would be, highly recommended the team and IRA experience!
I brought my car in for some work, and everyone was very friendly and helpful. My car was ready quickly, and I was very happy with the quality of the work.
Bruce was friendly and honest about what service I needed....didn't add any unnecessary extras! I was not waiting as long as expected! Getting aggravated that I can't send my review because it's not long enough
I definitely recommend Toyota, they are very kind and prompt to help you with anything you need. Thank you Steve Mahan for the great job! I'll come back soon for a new veículo 🚗
I brought my 2013 Venza in for spark club replacements $775 ended up spending $1160 with a $50 credit. Obviously a real profit center. They do have it together
I would highly recommend buying a car here. Melvin the sales representative was great. They delivered everything they said they would and even delivered the car to my house. Great people, great experience and met all expectations.
1 hour , 30 min. Not a long wait. Very friendly, comfortable chairs, nice pictures on the walls, bath room close by.,very clean also.look forward in coming again in 5,000 miles.
Standard oil change and tire rotation, in and out within 1.5 hours as promised by the dealer. I purchased the car there and would do again, though I don't use dealers for service generally beyond the free service stage as they tend to be quite expensive.
Service was fine But calling and trying to talk to someone is a on hold caught in voice cyber space nightmare and tried three times too
Though the information they originally gave wasn't accurate, they did consider my time and gave me a rental when originally we hadn't planned on it.
Always a pleasure either shopping here (Ernest is the BEST) or getting service done. They're professional, quick, the facility is super clean and comfortable and they have food/coffee.
Scheduling my 5k free maintenance was seamless. They took me on time and finished in a little over an hour. Friendly and easy. Highly recommend.
I just walked out with my new Rav4 this afternoon! My first Toyota. Blake Rickerson was my sales associate. We 1st started talking in October of 2020. However, I was too bugged with Covid and wasn't ready to buy a new car. I reached back to Blake on Friday and bought my car on Monday. He provided me with the information on the car itself. I then got to meet with Fausta one of the Sales Managers and after going back and forth a bit(to be expected, after all you are at a car dealership LOL) and we settled ...
I just walked out with my new Rav4 this afternoon! My first Toyota. Blake Rickerson was my sales associate. We 1st started talking in October of 2020. However, I was too bugged with Covid and wasn't ready to buy a new car. I reached back to Blake on Friday and bought my car on Monday. He provided me with the information on the car itself. I then got to meet with Fausta one of the Sales Managers and after going back and forth a bit(to be expected, after all you are at a car dealership LOL) and we settled ...
Mathew Buonomo, providing an outstanding customer services, great communication, awesome following up though out the times my vehicle at Toyota facility. Many thanks on the gentleman 🤟
Very Professional Steve Mahan very knowledgeable and keeps you updated on the process of your vehicle also let's you know the repairs done makes recommendations Well Done!
Brought my Sienna to what I thought replace just one tire.. ended up needing three tires and break replacement. It was not what I expected time wise and price wise .. I got really upset but Curran went beyond what is expected from a service advisor. He clearly presented different options and implications if I chose each of the options. He was professional, knowledgeable and very accommodating. I had dealt w many advisors before but I was really impressed with how Curran was able to work with me and turn a disastrous customer service situation into one that I felt worked ...
2018 Toyota Highlander was brought in for fuel pump recall and an oil change. Worked with Don to set up appointment and then with Curran Paolucci for the service needs. Curren kept me informed throughout the day and personally called when job was completed
Service was top shelf, problem solved quickly. Thank u the sos switch was drawing from the battery even after jumping the battery. They also found a nail in the right ground tire, well down guys
They did a major service for my Toyota SUV in one day . I had trouble dropped off car and keys when closed. Early next morning car assessed and service request approved by text and phone. So easy and professional attention.
IRA Toyota experience was very satisfying. All my repair needs were met and I am very satisfied with the quality of my vehicle. The service employees were very friendly and informative to my visit.
it was very comfortable place to buy a new car there is no pressure the workers are all very nice and eager to make customers happy im very happy with my purchase
Very easy process - I signed up online and received reminder texts. The staff were pleasant and accommodating. The waiting room was comfortable and the service was quick.
Very nice dealership. Customer Service is excellent. Very nice and professional staff and quality of work is excellent. Would highly recommend to people who want peace of mind
Job well done great service person. Got me a ride to my office quickly and he kept me informed as to the status of my service .
Great service! Blew my tire out and they replaced and aligned my vehicle and even took money off the final bill! Thank you Toyota of Danvers.
As always Ira Toyota makes my car experience a breeze. It is always my choice for anything "car". Everything was a easy. Excellent sales staff!
Great experience by the sales specialist ROBIN DUQUETTE. she's awesome ! Made me chose the right vehicle in a timely manner. Thanks to Fausto the sales manager who was really flexible in the deal.
I was looking for a latest Toyota Highlander to buy gently used or a new one and as searched all deals 150 miles around me Ira Toyota Danvers had the best discount among other. I bought brand new car with $4800 discount while my local dealer Balise Toyota had same vehicle used one but with over 9000 miles on it and priced $1000 over!
IRA did an Excellent job completing this process; Wonderful seller; strong personal attention to all details; efficient and kind staff all around. My fourth vehicle I have come to IRA to buy.
I have not driven the car far to comment on the areas that were my concern. I was pleasantly treated and made very comfortable including a Lyft service instead of waiting 4 hours there.
Aiman V and Tony Merida the best in service, I came from Rhode Island to get there service, I would recommend them to my family and friends. Thank you
I've been dealing with Ernst for 3 years and he is an awesome salesman. Very happy with my service! I never feel rushed. He explains everything so I understand what I'm getting out of it.
An excellent dealership starts at the top - and Mark, the General Manager is gentleman and is running an excellent dealership! One of my friends in the business told me Mark is a solid man and holds his staff to exceptionally high standards and this why they have a successful business. They don't have to price gauge because they have a good volume of sales because they give fair prices and have an excellent service department. Even though I had a great recommendation from an industry insider to go to IRA Danvers Toyota I shopped around first. When I ...
Overall good and quick response. But need to find right sales guy. Experienced some random rude sales guy but they changed to other fast. For us.
The whole process of leasing my vehicle was made very easy. They listened to my needs and everything went smoothly.Will return for my next lease.
Great experience! Easy to deal with, very nice, no pressure. Absolutely love the vehicle! John was very knowledgeable about the vehicle and was right on time delivering it to me.
Had my truck serviced at Ira and Seanna was excellent. Very professional and courteous. The platinum detail service was well worth the money, truck looks like new
Great service in a mannerly fashion! Nice to be serviced with a smile!! I only waited a half hour and I was on my way home again. Thank you Toyota Danvers!
Excellent Jason was a big help and made the purchase easy! We got the color we wanted and all features we wanted. Great experience buying a Toyota at IRA in Danvers, MA
Thanks so much the CESAR salesman very good. The dept credit very fast. The car so nice. I hope have the next car ovether too God bless
Always friendly, helpful staff. Bought 4 cars from this dealership. Comfortable waiting area and beautiful dealership. Would recommend to friends and family. Thank you. A happy customer 🙂
Clint was so patient with us. Answered all our questions and showed us all the details about our new car. He was great and very patient.
Went for a oil change and tire rotation. Appointment service, it took approx two hours. Facilities was fine. Wait room seating was space per Covid guidelines.
Overall process from start to finish was seamless. I have an appointment in arrived at the dealership to be greeted by a service advisor and work began promptly.
Friendly and efficient, free tea, outside seating. They have clean facilities and lots of customer reps. I love the car wash after the service appointment, I like they text you updates
I went back to Sean Leonard at Ira Toyota (Danvers) because he sold my parents their first car, their second car, and I knew that I could trust him. He's a great guy and gets the job done quickly. People know him and so he's a hard person with whom to get an appointment, but he's great and focused. I'd go back to him again and again.
Had an issue. They took the time to call me and address the issue to my satisfaction. That's customer service and what we should expect. Thank you
My last service call was an experience that I would remember for a long time. The service rep was Mr. Mario Pappalardo and this gentleman truly embodies your business values of "Integrity", "Transparency" and "Professionalism". I would gladly add one of my own and that is "Honesty". Thanks Mario.
I used Truecar.com to negotiate the deal on a new 2020 Camry XLE AWD. The salesman got the deal approved with a "low ball" trade-in for my 50K mileage "Mint" 2012 Camry XLE. I didn't like the trade but said ok anyway. Then the salesman upped the deal with a couple add-ons. $295 Nitrogen Tire Fill and $695 aftermarket remote start. Not know any difference, agreed. I paid cash for the car. After arriving home I installed the Toyota App on my android phone. It communicated with the car correctly but would not remote start from the app. ...
---
Leave Us A Review