Toyota Lease Deals Danvers, MA
A lease is a great financing option for many Danvers, Peabody, and Salem, MA drivers. And it's made even better with a nice deal included. At Ira Toyota of Danvers, we have plenty of Toyota lease deals in MA for local drivers. Why not look for yourself?
This Month's Trending Lease Deals
Who doesn't like to save a little extra money on their car? Well, we have plenty of great deals at our dealership to help you do so. But in the case of leases, our Toyota incentives can be especially helpful.
We regularly feature different models, like the Toyota Highlander, Toyota RAV-4, Toyota Camry, Toyota Tundra, Toyota Tacoma and more, that drivers can lease for a reduced monthly price, so be sure to check back to see if anything catches your eye. With so many Toyota lease deals updating monthly you will want to browse frequently to see if your favorite model is on special!
Why Lease Your Next Toyota?
Are you on the fence about whether leasing is a good option for you? Well, you may want to refer to this list. If any of these facts hold true to you, a lease may be the best choice.
You prefer a short-term commitment. Ownership definitely has its perks, but it's also something that you could be locked into for years and years. With a lease, however, you have the car for just a couple years or so and can then trade in for something entirely different.
You want an easier trade-in. Once your lease term is up, you can trade in your vehicle entirely without hassle. It's simple!
You prefer to drive something newer. If you're trading in your vehicle every few years, then you're pretty much guaranteed to always have a new (or mostly new) car. No more outdated technology or features for you!
Trust us, leasing has even more benefits. But if these big ones seem like they're up your alley, you may want to opt for this financing option next time around.
Our Finance Team is Happy to Help You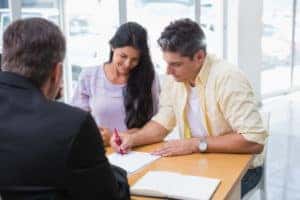 If you've never leased a car before, you may have a few questions about how the process works. Honestly, though, we think it's quite simple. Our finance team will take care of everything for you. All you have to do is provide them with some basic financial information.
At our dealership, we're glad to work with any credit history. Our financiers are experienced and skilled enough to find a solution for you no matter what.
When you're ready to hammer out a lease, just come in and see our team. We also have several financing tools on our website, including a simple finance application. Fill it out today to get a head start on things!
Find Toyota Lease Deals in MA
In addition to viewing our many Toyota lease deals online, Danvers, Peabody, and Salem, MA drivers can check out our inventory on the web. Here, you'll be able to get a detailed look at the best specs and features that Toyota has to offer.
If you see something that you like, don't hesitate to contact the Ira Toyota of Danvers team!