Toyota Camry Lease

Getting a new car is exciting, whether you have it short- or long-term. If you're someone who enjoys having a new vehicle every few years, leasing could be a great option.
At Ira Toyota of Danvers, we have tons of automobiles to lease, including the Toyota Camry. Below, we'll tell you all about this impressive midsize sedan. Then, you'll discover how to get a Toyota Camry lease near Danvers, Peabody, or Salem.
Read through our guide, and contact us if you need more information or are ready to start the leasing process.
Why Lease a Toyota Camry?
If you're someone who likes the finer things in life without the commitment that goes along with a big investment, leasing is for you. This finance option allows you to drive the newest vehicles for a shorter period of time, so you can be continually upgrading.
Think about the new and advanced features that the Toyota Camry will include in the years to come. Leasing allows you to enjoy the best now. Then, once your lease contract is complete, you can begin a new lease with the upgraded Camry, allowing you to always drive the best.
Perks of Leasing a Camry
Along with always being behind the wheel of the most progressive models, leasing comes with several benefits that you won't find in other finance options. For instance, you'll generally have lower monthly payments and little-or-no money down. Since you're not paying for the full amount of the vehicle, you'll only be paying for the depreciation of it while it's in your possession.
Additionally, you'll be covered by a solid warranty, so maintenance and repairs cost less, as well. Plus, trading in your old vehicle is extremely easy. Once your lease is up, we take care of all that for you.
How to Lease a Camry
After learning about the Toyota Camry, you may wonder how to go about leasing one.
At our dealership, we'll guide you through each step of the process, helping to make it as easy and streamlined as possible.
First, we'll have you test drive the vehicle, to decide which trim level is right for you. After making a selection, we'll go over the lease agreement inside our finance center.
This includes finding any lease offers for your particular Camry. This would be for a certain price each month, after putting down a specific amount initially. Plus, the lease offer would be for a certain number of months and miles-typically 30,000 miles over the course of 36 months (though this can vary).
We'll also cover the various vehicle protection plans that are available to you. These are optional, but can keep you covered for a number of different maintenance or repair work.
After we've gone over your whole agreement in detail, you'll just sign on the dotted line. Then, we'll hand over the keys and have you driving home in a brand-new Toyota Camry!
About the Toyota Camry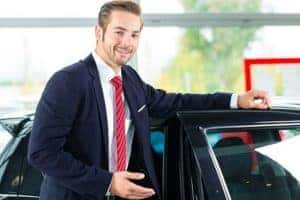 The Toyota Camry is a midsize car that's known for having lots of impressive technologies and safety features.
For instance, you'll find an Entune™ 3.0 Audio infotainment system with App Suite. You can download a variety of apps onto your smartphone, then plug it into the vehicle's USB port. This lets you access those features on the car's 7-inch touchscreen for extra convenience.
There's also an available Dynamic Navigation system. The most up-to-date maps will be shown clearly on the display screen, helping you get from Point A to Point B efficiently.
In terms of safety, there's the standard Toyota Safety Sense™ P system. This intelligent suite of driver-assisting technologies acts like a second pair of eyes, alerting you to things you might miss while driving.
Some of the features found in this suite are:
* Lane Departure Alert with Steering Assist
* Automatic High Beams
* Pre-Collision System with Pedestrian Detection
With these systems in place, you'll have extra help staying in your lane, seeing better at night, and avoiding hitting a person or other vehicle.
Additionally, the modern design of the Toyota Camry will make you the talk of the streets. It can also be customized with an array of exterior colors, interior upholsteries, and aesthetic features, so your ride can be truly one-of-a-kind.
Get a Toyota Camry Lease Today
If you have any questions, or are interested in a Toyota Camry lease, contact Ira Toyota of Danvers.
We'll get things started for you right away. Then, before you know it, you'll be driving home to Danvers, Peabody, or Salem in a new midsize sedan!
Finance and Lease Offers