Oil Change near Danvers MA

When you need an oil change in the Danvers, MA, area you can always count on the Ira Toyota of Danvers team to fix you up. We'll have your car in and out of the shop in no time. Continue reading to learn more about our oil change services and about oil changes in general or skip to scheduling your service appointment right here or over the phone today!
Our Service Center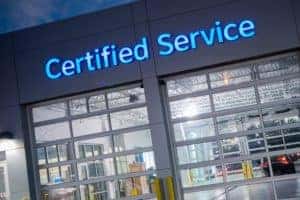 When you need a quick oil change here in the Danvers, MA, area, our Toyota dealer is well-equipped to take care of things for you. We have 60 factory-trained service technicians on our staff, which means plenty of skilled hands working to get your car in and out of the shop as soon as possible.
Of course, minor routine maintenance isn't all that we do here. We've tackled some pretty big jobs in our day, including major powertrain and transmission repairs.
No matter what kind of issue your car may be experiencing, you can count on us. Reach out to our technicians online or over the phone to schedule your next service appointment.
Our Educational Oil Guides:
More About our Dealership & Services

Our large, state-of-the-art service center has certainly garnered a fair amount of attention over the years. However, that's not the only thing to get excited about here.
We're also well known for offering one of the largest selection of new, used, and certified pre-owned vehicles in the area, including a large inventory of your favorite Toyota Models.
Our cars are easy to browse. You can look through them all today right on our website. Here, we list all the specs, features, and pricing information that matters most to you.
Once you've found something that you like, you may want to check out our financing page, too. Securing an auto loan is an essential part of the car-buying process and one that our team is more than happy to help with.
You can apply for financing online at any time. Just fill out a short, simple form, and you'll be well on your way to securing your auto loan.
Schedule Your Oil Change at Ira Toyota of Danvers Today!

For many years now, our Danvers, MA, dealership has helped local drivers maintain their car with speedy oil changes, thorough powertrain work, and a wide variety of other repairs. Now, how can we help you?
If you're in need of an oil change, contact Ira Toyota of Danvers to schedule an appointment!
Quality work and service advisor Curran Paolucci was both courteous and very helpful to me. He was knowledgable in all areas of my concerns. Labor hourly charge is excessive in my opinion.
The Service Dept has always been very helpful and courteous. Bruce is excellent. I have never had a problem with this dealership or any of their staff.
Friendly professional and courteous . Bruce is the utmost professional , keeps you updated and recommends the necessary repairs . I bought over 18 cars from Ira over the past 35 years. Great dealership
Great follow up and customer service. Worked with GM, Mark Giovanni, and he was incredibly helpful!
Good experience at this dealership. Bruce was very professional and helpful. Only one complaint, did they stop washing and vacuuming the vehicles? My husband was next door at Lexus for oil and filter change too and his car came out of service all clean and shiny. I was jealous. Nice touch!
Very good service and everything worked out just fine thank you and have a good day good time excellent service and I would have other people recommend coming here for service toyota
Prompt service, service manager was knowledgeable as well as courteous. Clean dealership. Collision dept. also very good. I'll probably switch to this dealership when I get my next car.
This guys are awesome and reliable, good working on the car. They make sure all your needs are well taken care of, will recommend IRA Toyota any day any time.
This a great dealership. I get my car serviced here. They are honest and do a good job. Today they were overbooked and my car took longer than had they originally communicated so they threw in the oil change for free. Good service!
They were very honest about the condition of my old vehicle and gave me an honest appraisal. I was happy about the whole experience. I would consider them for a new vehicle.
People are always very nice and they always accommodate you. At least I have been. I had a problem one time and they took care of it.
Extremely helpful. My sales rep, Abdou was wonderful. He processed everything quickly and always replied back to me quickly. Great guy to work with and professional.
Have been using IRA for almost 12 years always courteous and on time . Always responsive to my needs. Have been going to IRA for almost 15 years.
Since I bought my first Toyota here, I have used them for service, too. This time I had Nate for service; he, like all the other technicians I've had, was nothing but courteous, respectful, and professional. Also, Ira makes waiting pleasant in a clean and comfortable waiting room. I recommend this dealership to anyone who asks.
Inspection went quickly and the employers were courteous But my car wasn't washed as was promised when I responded to the email offering a free car wash with the inspection
Excellent customer service and it was a clean place to wait until my service is ready. They asked you if you wanted to wait or need a ride.
You can be confident to purchase a car at IRA Lexus. I purchased a used car which had an unknown problem. The dealership went above and beyond to give me options, and make the experience positive for me. I would absolutely go back here for my next car purchase. The salesmen are gentlemen, helpful and am very glad to have purchased the vehicle here. The mechanic was knowledgeable and capable.
Nice way I was treated the waiting was very nice free coffee how can you beat that I wood have liked you to wash the car there are some dealers that do that over I am happy
My lease was all most up, Ira reached out about turning my lease in early, I went in to talk about it and they made the process so easy that I leased a new truck right then and there, I still don't know if this leasing is a good deal but it seems to be working for me since this is the 4 th truck I've gotten from Ira and each time I have left feeling like it was a good deal for both of us. Each time my sales associate was awesome, from knowing all about the truck ...
Tommy was awesome. Helpful, friendly, efficient, and knowledgeable. Thank you!! The service on my car was quick and painless. Thank you for such a great experience
I always bring my Highlander and Rav 4 to IRA for service. Both cars were purchased from this dealership. Blake in sales is the best. I would not want to purchase from anyone else. As for service, it's outstanding and Seanna is fantastic. Great customer service, professional, friendly and knowledgeable.
I have been going to this location since 1999 and very satisfied with service I receive for my 3 Toyota's Enjoy the shuttle as well when needed
Outstanding service by our Advisor Bruce and the technicians that service our car. Never had a problem and this is our third purchase from IRA
Everything was good and professional,,,,,,,,,,,,,very nice my car got a very special thread today, thank you for your services, definitely I highly recommend that. Thank you
Ira Toyota does a great job with customer service and vehicle maintenance. Their techs are well trained and the company stands behind their work. The Service Advisors (in my case, the SA is Nate Brungot) are true professionals; knowledgeable and efficient. I have been doing business with Ira for many years. Always a positive experience.
8:00 a.m. appointment- taken on time, finished in an hour- perfect!! Matt Buonomo, my Service Advisor, was cordial, clearly explained the options of what the car needed and time lines. Avery pleasant early morning experience! Thank you!
Clint was fantastic. Be sure to ask for him when you visit! He is the best car salesman we have ever worked with. Thanks Clint!
When I bring my car for service to Ira Toyota I don't have to hang around. You folks treat me to a Lift/ride and I can hang out at the shopping center. You call me when the car is finished and send a Lift/driver to come and get me. Love it! I drive the bottom of the line...Yaris 2017. When you folks finish servicing my car, it feels brand new!
Went in for service included in my lease. Work was done promptly and at no additional charge. You asked for my opinion, I gave it to you sorry I don't have any more to say
Had a very unique situation and worked with Mark Giovanni who made it right! Very stand up guy! Salesperson Akeem Robertson provided personal excellent service to make sure I had a positive experience!
I drove 2 hours to get to the dealership to bad the first salesperson was rude no patient to sell . The second salesman very polite and friendly and sold me the car in half hour
David Rojas was my service representative, he far exceeded my expectations. He found another recall on my truck, and took care of that. He was able to get me a loaner car during the repair, which made things a lot easier for me. It was so nice walking in for service and everything going smooth.
I brought my Tacoma in to get diagnosed for a brake issue I've been having. Appt was set and the person I dealt with at the dealership was very professional and informative. I was able to get a ride back home from their ride service and I was contacted throughout the day with updates. A full printout was given to me on the findings concerning the issue. Overall, a very pleasant experience and I would definitely go back again.
My last experience with the dealership was horrendous. This time it was beautiful from start to finish. I have leased from you for over 20 years. After my 2018 experience I almost terminated all contact ,but felt that I would try one more time to see if anything could be rectified. Thanks to my salesman Aiman Varoqua, I was treated with respect and curtesy and I didn't even have to think about protecting myself from being financially abused . He had explained every move to me and treated me like an educated person . I had had to turn in my 2016 lease with ...
First Toyato purchase for us. Bryan Gonlazez was very attentive to our needs and answered all questions we had. I was bit disappointed when we test drove a vehicle, liked it and wanted to purchase only to find out it was sold. Bryan searched and found an almost identical vehicle for us to purchase. We financed the vehicle and that process was good but a bit lengthy. We live in NH so Bryan was very accommodating to our schedule to meet us for registration and delivery. He was certain to be sure all of our questions were answered and if ...
Very pleased with my car-buying experience at Ira Toyota. Sales and finance staff were professional and easy to deal with. Shout out to my salesperson, Jason Dick, who went above and beyond to get me the exact car I wanted even sooner than expected.
Straightforward process for buying a used car. Let them know the car I wanted and they reserved it for me. Didn't have any issues along the way. Would recommend
My salesman John Arena was super knowledgeable. He was able to give me fair options within my budget to achieve our family's goal. I highly recommend him
Everyone I worked with during this process of purchasing my first new car was so friendly and helpful. Aiman the car salesman and Virgilio the finance manager were amazing! The car is amazing and everything I wanted. The process was smooth and I left very satisfied with my new car!
2015 Siena required bearings & hub on right front wheel. Appointment at Noon, noting a 500 mile road trip I was taking with my young children immediately following this repair. It took 5.5 hours until my car was available. This was an unexpected & expensive repair. The service manager Danny Morales was extremely pleasant and helpful! Upon driving, I heard loud scraping noises coming from that same wheel. Returned to IRA, but service was closed. "David " (another service manager) kindly came to my aide and worked diligently for another hour in the parking lot trying to irradiate the problem. Finally, unable to repair ...
Easy online appointment and able to reschedule for earlier time. Quick service and comfortable waiting room. Love our hybrid RAV it's mileage and its AWD performance.
Service Advisor Matt Buonomo was very approachable and helpful in getting my car serviced within my time frame, which was a little tight. I feel my 2 yr old Prius is being serviced appropriately.
great value, cars keep getting better in everyway. straight forward easy service / process. very accommodating. highly recommend. Love the precertied program, third time I've used
Our service advisor Nate Brungot was very helpful in our car service. Nate understood when I shared with him that we wanted to delay some of the service suggestions.Thank you Nate
Great service polite and organized honest people.Pricing was reasonable. Auto technician was great explained everything in detail to me was very helpful. Matt Buomono was excellent in providing service
I was greeted promptly. Everything that was to be done was explained in a warm and friendly manner. When some other milage related issues came up, those too were explained and options put forward.
As always courteous and experienced technicians. Very nice place to sit and read and wait for your vehicle I recommend it highly. Thank you as always
My experience was a 5 star one from beginning to end. The product is exceptional and the crew from sales to service truly professional throughout.
I was impressed with how approachable and professional everyone was. They made the buying process much easier than I expected it to be. Everyone was prompt and thorough.
As always they were polite, organized and honest. Work was done timely and communication was great. The facility is clean and accommodates so many customers you don't wait !
The customer care was great there was two of them so pleasant and sweet. They both had patience, had my mother in law with me and she was chatting up a storm with one them- he just had a lot of patience . Very nice service we were out of there in an hour, definitely going to Danvers ma fir all service check ups for now.
Our car had a problem with its tires; loud humming at certain speeds. We were treated fairly and the service rep was professional and pleasant. Waiting room area is starting to look tired.
Bringing in a car for a 30k check up raises considerable apprehension. The parts that are beginning to wear out, the cost and god knows what, but this is a Toyota, driven and maintained reasonably well. This is a top rate dealer with a service department that makes the procedure as quick and smooth as possible.
The usual friendly, professional service I have become accustomed to receiving at Toyota over the years. I have been coming to Toyota/Danvers since I purchased my Tacoma in '05 and have never had a bad experience.
A perfect visit, fast, efficient and friendly staff made my service visit a breeze and on time. This is my 3rd time having my SUV serviced at IRA, and I'm very pleased.
They totally saved us on a Saturday before we left for a trip when no other dealership would. Great service people from the moment I called to the check in and service. They fixed what needed to be fixed and didn't try to add on a lot of extras. They're a lot further from me than other dealerships and I'll be happy to make the drive to use them again.
Ira's service department is superb. Brian, Alpesh, & Bill were exceptionally helpful addressing follow-up needed for an after market moonroof detailing issue that was unexpectedly complicated. These guys were quick with updates and helped make sure the issue wasb flawlessly resolved.
You have a good service but today when I got my car back after being in the shop for couple days getting fixed it was really dirty from inside especially the seats
David was so helpful and able to squeeze me in even though I was running late. Please give him the credit he deserves for great service!
Staff in every department are always polite, friendly, & professional. Clean comfortable waiting area.would recommend this dealership for sales & service. We have bought 4 cars from Ira
Great customer service and attention to details. Costs are reasonable. No hard upsells. The facility was very clean and freeflowing. Over all it was a great experience.
Competent, polite professional and delivered in less time then anticipated! Can't get better than that. I will be a repeat customer, heck, I already am
Great service Rest communication- detailed explanation of job completed Service manager was polite and quick to respond to text and email. A little confusion on using Lyft.
I am always happy with the service at this location. Everyone is friendly and helpful. I was given suggestions on the services my car is due for at this time and never pressured into getting everything done at once. Any issues are brought to my attention and explained and I really appreciate that. Alpesh helped me today and he was great!
Never disappointed with IRA Toyota, a pleasure dealing with them. Went there for my car service and a recall Matt took care of us. We were given a free rental instead of waiting the whole day. I definitely recommend IRA. They value their customers. Nothing but respect! Thank you Matt!
I am very pleased with the service department they did a great job. Especially when it had been a long time since I has owned a new car
I'm very happy with my new car from Ira Toyota. I went in for a specific car and they were very thorough but also didn't try to talk me into anything else or upsell me. They were very patient and very accommodating for this first time car buyer and I am so grateful!
Long time customer always bought and devices and bought for my relatives good place to shop I have not had a bad day at ira yet and hope it will be that way for years to come
Great service department; friendly, helpful & thorough, even though it's a little jammed under the current circumstances. Preferred their in-house curtesy shuttle to the current use of Lyft drivers-no particular issues with Lyft.
Every one I met and talk to was very helpful and happy to assist me. One drawback was the sign off after the work was done. We did the sign off on the side of a car which would have been better sitting at a desk and reviewing the work sheets which was not done. To find out brake lining thicknesses, tire thread depth and the check off of the various items inspected I had to go to your web site after the fact. Previous work I had done at your shop your personnel would sit down with me and ...
Routine maintenance, at Danvers, MA Toyota. As always the experience was excellent. People were great, wait time wasn't bad about an hour. Strongly recommend IRA Toyota of Danvers, MA.
Everyone I interacted with in the service department was awesome, from the phone call to schedule to the shop itself. They accommodated all of my needs and, knowing that they were a little backed up, a technician took a quick look at my car for a diagnostic in order to save me several hours of waiting. Top notch customer service 😊
They were very helpful when I was choosing a car. Also, they provided excellent service by asking what I needed when looking for a car.
Overall great experience leasing a brand new car through Ira! Sage was awesome and helpful throughout the whole process. He wasn't the least bit pushy and got us into a car that really fits our needs. The whole process was timely and efficient, and we were driving off the lot in a brand new car within 2 days!
Cust Service rep Steve Mahan was very pleasant, professional and helpful. Facilities accomodating and pleasant. Promotion pricing was incentive to come now versus later. Great dealer!
Excellent service and communication. I love the outside picnic tables and the ability to take a walk while waiting. I will be back after some summer driving.
Brought my Rav 4 in for regular service. It was done quickly and efficiently. The service tech told me what they were going to do. He also told me how long it would take, he was spot on.can't ask for better then that.
Excellent service nice to know that there are people who still take pride in their job Bruce was polite , courteous and helpful Thanks for a Great experience.
Very pleased with service, timeliness of the work and transportation to and from my house. Service tech writer was very pleasant and helpful. enjoyed my experience.
Always great service. I like that they don't push extra services and it's easy to set up an appointment. They do quality work in a timely manner.
No one looks forward to getting service at the dealership, but Ira makes it easy! Dealt with Seana, she was friendly, up front, honest, and timely. Would recommend service here to friends, and will be back!
Booked online and came in for repairs- the process was super easy on my part. The wait time was pretty significant (though I was informed from the start and did agree to it) but the service was thorough. The service people were friendly, seemed honest, and did their best to accommodate me while waiting. Though my visit today did not include a purchase, I bought my car here initially and had a good experience so I included that as well.
We couldn't figure out why my car was shaking for over a year. We brought it in to multiple shops with no luck. They were able to identify the problem in less than an hour. Car runs fine now.
Melvin who was my salesperson was exceptional and friendly . I appreciate his patience and will-highly recommend IRA Toyota. And as a side note I would also say that the staff at IRA Toyota were all professional and kind. Thank you😀
This is the fourth visit to Ira Toyota for my used 2011 Highlander that I purchased from a non Toyota dealer but I want to keep my Highlander as genuine as possible as it is a low mileage one owner limited model in excellent condition and I want to keep it that way for many years to come. This is the first Toyota I ever owned and so far it has been a great experience and would definitely consider another Toyota when the time comes. Ira Toyota offers a great service experience as you are kept informed throughout the service process. ...
Again had my service at IRA. Very attentive , professional and overall good experience. Service was a bit long but expect IRA is dealing with employee shortage as well.
Excellent value buying a new car from IRA Toyota, purchase process is smooth, sales persons are friendly, knowledgeable, helpful, fast response, professional. Would buy again from them in the future.
1st time IRA customer. Malvin sales guy was great. Sales team was good to work with all good Car I bought was excellent condition w low mileage
First time buyer at IRA Toyota. Robin D. Is the consummate Professional, very informative and patient. The experience was "painless" . The service staff were all courteous and professional. I would/ Will reccomend IRA Toyota to my friends and family. THANK YOU Robin D. For your help. John from Swampscott Ma.
We loved our sales person Robin. She tried to be as honest as possible with us and worked with us to choose the right vehicle. She showed us the features of our new car.
service was timely and the car was washed. Headlight was fixed within an hour. The waiting room was clean and had interesting tv on. Experience was positive
I have only taken my car to Ira in Danvers for service. It is always well done and quick, and the charges seem fair. Today was quite a bit slower than normal. The service rep told me that because I had had an inspection, it was slower because there were an unusual number of cars being inspected that day. However, I had to track him down rather than his coming to explain it to me. That was a new experience for me at Ira.
Have had my car serviced at Ira Toyota since purchasing it several years ago. The early morning appointment times fit my schedule and I appreciate the clean, quiet, comfortable waiting area. The service reps are courteous and professional.
Nate was friendly and kept me informed About what needed to be done. Thank you Very much! I have always bought my cars from Ira Toyota.
What is normally an extremely stressful experience was actually an enjoyable stress free experience. Blake R. and Max F. clearly love what they do. They made me feel like I was absolutely the most important person at the dealership while working with me. Whether you are looking for a pre-owned or a brand new vehicle I would highly encourage this to be your first stop.
Great service! Was surprised and delighted. Tyler was great and it was terrific to have food there. Would have liked a separate place to eat though
Took my car in for forty thousand miles service. Fast efficient and very informative. Kept me updated on necessary repairs and progress of repairs. Alex was excellent. pleasant and professional.
Can't beat the service...prompt, efficient, courteous, and friendly. Recommend their service. They even had me driven home while I waited for mycar repair at no charge.
I just walked out with my new Rav4 this afternoon! My first Toyota. Blake Rickerson was my sales associate. We 1st started talking in October of 2020. However, I was too bugged with Covid and wasn't ready to buy a new car. I reached back to Blake on Friday and bought my car on Monday. He provided me with the information on the car itself. I then got to meet with Fausta one of the Sales Managers and after going back and forth a bit(to be expected, after all you are at a car dealership LOL) and we settled ...
I went back to Sean Leonard at Ira Toyota (Danvers) because he sold my parents their first car, their second car, and I knew that I could trust him. He's a great guy and gets the job done quickly. People know him and so he's a hard person with whom to get an appointment, but he's great and focused. I'd go back to him again and again.
---
Leave Us A Review