What is Synthetic Oil?


Every driver has heard about needing an oil change. From Peabody to Salem, drivers know that every so often, this service needs to get taken care of. However, what does oil do? And what is synthetic oil?
Ira Toyota of Danvers provides you with some answers, so you'll know what's going into your car and how often you'll need a refill. Contact us if you have any other questions!
What Is Synthetic Oil?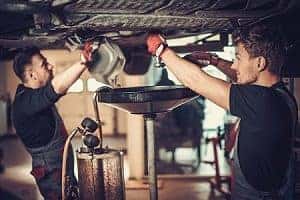 Synthetic oil is a type of motor oil that has been scientifically engineered to last longer and perform better inside your car's engine.
It's drawn from crude oil but has been distilled to remove most of the impurities found in conventional oil. It's not only cleaner, but usually also has molecules added to improve production. These also help it hold up better in more extreme temperatures, both high heat and frigid cold.
Overall, it helps your engine get a better, cleaner performance and lasts for longer than conventional oil.
What Does Motor Oil Do?
Motor oil is to an engine as water is to the human body. If you start running a marathon without being properly hydrated, you're eventually going to feel exhausted, possibly overheated, and be at greater risk of injuries.
The same is true with your car. There are hundreds of moving parts inside your car. All that machinery working at the same time creates a lot of heat. Oil cools the parts down and acts a lubricant, so everything can keep moving without breaking down.
Just like we need to drink more water after we get tired, your car needs new oil after enough time and miles to keep things lubricated and prevent them from overheating.
Differences: Synthetic and Conventional Oil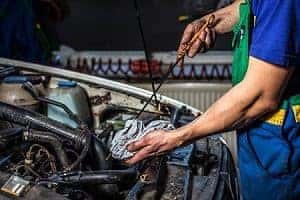 Conventional oil is basically crude oil that doesn't have the same chemically engineered properties as synthetic oil. It still has many of the same impurities that you'd find in oil straight from the ground.
Since conventional oil wasn't distilled to remove all the impurities, its not as resilient as conventional oil.
When oil is brand-new, it has a golden amber color and it pours easily. After enough time and miles of working through your engine, it'll eventually turn into a thick, black sludge. When it does this, it's time for you to get a routine oil change.
The biggest difference between conventional and synthetic oil is how frequently you'll need maintenance. With conventional oil, you'll need to get an oil change every 3,000 to 5,000 miles, or every three months. Thanks to the science behind synthetic oil, you'll only be getting an oil change every 6,000 to 7,500 miles, or every six months.
Toyota Service Center
We're proud to provide drivers around Peabody and Salem with excellent service from our highly trained technicians. Our service center can take care of all your needs, from routine maintenance, like oil changes, to bigger service jobs, such as transmission repair.
We even made sure to make our waiting area as comfortable as possible for you. With free Wi-Fi, work stations, a children's play area, and courtesy shuttle service, your visits to our service center will be easy and convenient.
To learn more about what synthetic oil is or any service issue you have questions about, visit Ira Toyota of Danvers. Schedule service online to quickly and conveniently get your next routine oil change set up.