Massage & Spas Danvers, MA

As you go through your busy week, it's nice to set time aside for self-care. There are plenty of ways to treat yourself at home. However, you could make the experience extra special by having someone else take care of you.
If you're searching for massages and spas near Danvers, MA, we can help you out. We created this guide of our top picks, so you know where to go as soon as possible. Keep reading to discover what they are!
Maison Esthetique Christiane Bourque Spa: Where You're the #1 Priority
At Maison Esthetique Christiane Bourque Spa, they're passionate about skincare and personal wellness. It's how they create services with your comfort and satisfaction in mind, where you're their number one priority.
When you visit this spa, you'll get to enjoy things like:
Stress-relieving massages
Rejuvenating body wraps
Nourishing facials
For the massages in particular, there are lots of options to choose from. We recommend getting the Himalayan Salt Stone Massage. They place stones on your back that are made from 100% pure Himalayan pink salt. The 84 naturally occurring minerals are then absorbed through the skin to create a high sense of wellbeing.
For more information, check out Maison Esthetique Christiane Bourque Spa on Facebook.
Spalenza Spa: Providing Plenty of Ways to Help You Relax
Spalenza Spa was founded by Silvane Spalenza, a beauty and wellness expert who's certified as a massage therapist and licensed esthetician.
There are two main types of massages you can get here: therapeutic and relaxation. Therapeutic massages are generally geared toward addressing specific health conditions. Relaxation massages, on the other hand, aim to have you feeling calm and at peace.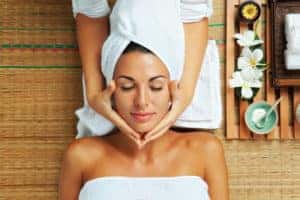 Specifically, you could receive Ashiatsu Oriental Bar Therapy®. Silvane is actually one of the few massage therapists in the area to offer this unique treatment. It's where the therapist stands on the guest's back and uses their feet to relieve tension.
If you prefer a whole day of pampering, then take advantage of Spalenza's "Stay the Day" Package. It includes breakfast, lunch, and afternoon snacks, along with treatments like a massage, customized facial, and manicure/pedicure.
To learn more about their other packages and treatments, follow Spalenza Spa on Facebook.
Enjoy a Day of Pampering near Danvers MA
No matter which place you visit for a massage, you'll get the royal treatment—as you well deserve.
To receive this type of high-quality service, make an appointment at one of these Danvers area spas today!