Community Spotlight: DiHard Fitness

When it comes to working out, no two people are the same. That's why DiHard Fitness offers several types of fitness classes every day. That way, you're sure to find the fitness class that best suits your active lifestyle. In addition to fitness classes, DiHard Fitness also offers personal training sessions, suspension, and more.
Keep reading to learn more!
10 Years of Fitness
For 10 years DiHard Fitness has been helping those in and around Danvers, Peabody, and Salem get in the best shape of their lives. In addition to their variation among class offerings, DiHard Fitness is open seven days a week so you can attend a class whenever is most convenient for you.
Plus, with a staff of ACE Certified personal trainers you'll feel confident you're getting the best workout possible.
DiHard Fitness Classes
At DiHard Fitness you have the chance to attend one of their many workout classes of varying types of fitness. Frequent classes include TRX, spinning, HIIT, boxing, Zumba, and more. Let's take a closer look to help you figure out which class is right for you.
Don't forget to visit their Facebook page to learn more about their class offerings.
TRX
This type of workout, which typically lasts for 45 minutes, uses special resistance bands and your body weight to create a form of suspension workout. You'll finish class with a core burnout round for a complete body workout.
Spin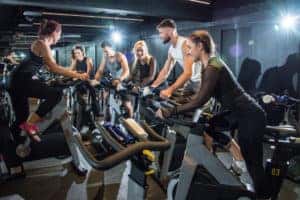 DiHard Fitness' spin classes are offered at either 30- or 60-minute programs. The shorter 30-minute classes are spent cycling to upbeat music and can easily be paired with one of their sculpting classes offered immediately after.
The hour-long classes use variation in cycling and floor work to keep your heart pumping and your body burning fat.
HIIT
HIIT (High Intensity Interval Training) allows for maximum exertion for short periods of time. It's tough work, but the upbeat music and supportive environment makes this body weight and strength workout fun and sweaty.
Boxing
Your heart will be pumping with one of the boxing classes offered at DiHard Fitness. During these classes you'll do a series of boxing movements followed by a period of time jumping rope, using weights, and more for maximum burn.
Zumba
Dance those pounds off with this fun Colombian-inspired dance workout. During these classes you'll be moving and grooving your way to a smaller waistline without even realizing.
Personal Training Sessions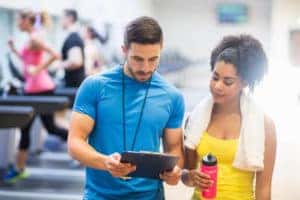 Do you prefer a more individualized approach to fitness? You can sign up for one of their personal training sessions. With the help of one of their personal trainers you'll find that you're stronger, losing weight, and toning.
You can opt for a 30-minute or 60-minute personal training session. With these options you'll find that getting fit at a time that's most convenient for you is possible.
Those who want more of a one-on-one fitness approach for less can opt for one of their small group training sessions. Small group training is offered with TRX, circuit, weight training, and more.
Visit DiHard Fitness Today
Are you ready to take the first step to having a stronger, more toned body? If so, stop by DiHard Fitness. Here you'll be greeted by a welcoming environment and team of great personal trainers. Visit DiHard Fitness today!