Best Chocolate Shops Danvers, MA

There's a big reason why so many people love chocolate. It's rich, creamy, and decadent. Plus, you can get it with lots of add-ons like coconut, fruit, or nuts.
Whether you like your chocolate plain or filled with mix-ins, the following best chocolate shops near Danvers, MA, are sure to please your sweet tooth…
Somerville Chocolate: From the Bean to the Bar
Somerville Chocolate opened in 2012 as a bean-to-bar chocolate CSA (community-supported agriculture). Their mission is to involve the community in chocolate-making by creating multiple bar deliveries that showcase a specific aspect of the chocolate-making process.
You can join the CSA and be part of creating these delicious treats. Or, you can visit one of their retail locations to purchase a chocolate bar or two. They have options like Hawaii 70% Dark, Apple Smoked Dominican 65%, and White Chocolate infused with Mosaic beer hops.
For more information, check out Somerville Chocolate on Facebook.
Taza Chocolate: Simple Chocolate That's Good for All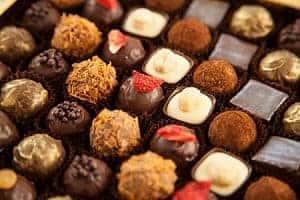 At Taza Chocolate, they showcase the complex flavor of stone ground chocolate through simple means. They grind organic cacao beans into unrefined, minimally processed chocolate. The result is a satisfying treat with bold flavors and textures.
You'll find chocolate bars in flavors like Coconut Almond, Espresso Buzz, and Toffee, Almond & Sea Salt. They also have bark and chocolate-covered nuts.
They have Chocolate Mexicano discs, too, that are worth getting. These organic Mexican-style dark chocolate discs burst with bright tastes, and come in flavors like Cinnamon, Coffee, and Guajillo Chili.
You can find images of some of their goodies on the Taza Chocolate Facebook page.
Visit These Danvers, MA Area Chocolate Shops Today
Once that chocolate craving hits, there's only one way to satisfy it. So, don't wait. Be sure to visit these chocolate shops near Danvers, MA, today!