Best Bars to Celebrate St. Patrick's Day Danvers, MA
It's always a special time in Danvers when Saint Patrick's Day arrives! You're probably eagerly waiting for this fun and eventful holiday. However, do you know where you're going to spend the evening? We're here to help by giving you a list of the best bars to celebrate Saint Patrick's Day near Danvers. Using this list, you'll be able to find the perfect venue for your St. Patty's Day festivities!
The Berry Tavern
2 High Street, Danvers, MA                                    Facebook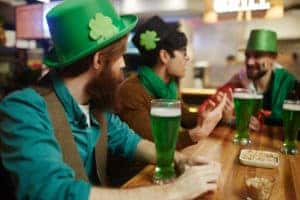 The Berry Tavern has been a staple in Danvers since 1808 when it was first established by Ebenezer Berry. Since then, it's grown into one of the more popular bars in town. For St. Patty's Day, this bar will be your ticket to Belfast with its great options and holiday-inspired specials. There are plenty of menu items that can appeal to all senses and tastes. The Berry Tavern also specializes in hand-crafted cocktails with fresh ingredients, but they also have an extensive beer list featuring notable ales, lagers, ciders, and stouts to help you get into the spirit of the holiday!
Harrington's Food & Spirits
17 Water Street, Wakefield, MA                            Facebook                 Twitter
When you're looking for a traditional Irish tavern, Harrington's Food & Spirits in Wakefield may be the right venue for you. You'll be able to spot them from the street because the flag or Ireland flies high all year round.  When you arrive, you'll be able to get right into the spirit of the holiday with the special "Irish Fare" section on their menu that includes dishes such as fish and chips, Shepherd's Pie, Drunken Tips, beef in Guinness, and corned beef and cabbage. Wash it down with an Irish stout or ale and sing the traditional Celtic songs with your family and friends to close out a memorable Saint Patrick's Day.
Sylvan Street Grille
12 Sylvan Street, Peabody, MA                              Facebook                 Twitter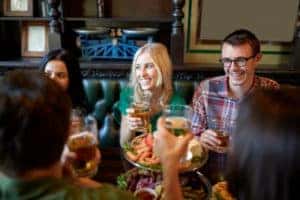 Tired of the typical Saint Patrick's Day bar crawls? Why not swing by Sylvan Street Grille for a delicious bite to eat and some tasty beverages. The bar is stocked with your favorite drafts, bottles, cocktails, and spirits to enjoy for your celebration. They've got plenty of sharable appetizers that you may want to try, or if you come with an appetite, dive right into the sandwiches, burgers, or pasta dishes. Sit back and enjoy your St. Patty's Day evening with your friends at Sylvan Street Grille in Peabody.
Looking for a fun and interesting night out near Danvers for Saint Patrick's Day? Check out any of these bars/restaurants and see which one is the right location for your celebration!