Art Classes Danvers, MA

There are many great reasons to take an art class. Not only will you learn something new, but you'll also challenge yourself and open up your creativity.
Plus, there are so many materials that you can work with, from watercolor and oil to charcoal and clay. And with the different techniques out there, there are endless ways to create a masterpiece.
To get started, you'll want to enroll in art classes near Danvers, MA. Continue reading to discover the best ones in the area…
Follow Your Art: Where Everyone Can Learn About Art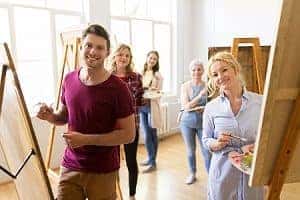 Follow Your Art is a community art studio that provides everyone with a great art experience. Through a safe and supportive environment, you're able to improve on personal growth and quality of life.
They offer classes for children, teens, and adults. In fact, there are classes for children as young as 18 months. With a caregiver, toddlers can discover art play while exploring various materials.
For teens, there's Open Studio to explore any form of art that interests you. There's also Drawing Club, where you'll build skills based on your passions and abilities. Adults can attend various classes, too, such as Watercolor 101, Oil Painting, and Printmaking.
No matter your interest, you're sure to find the right class for you here.
KB Studios: Where You're Supported Through Creativity
KB Studios is run by Krista Bebezas, a Registered Board Certified Art Therapist. She created this art therapy studio as a "sanctuary for inspiration and creativity." Here, you'll get to explore various art media in a safe space that applauds the artist in everyone.
Parents can take classes with their toddler or young child. There are creative art groups after school and during the summer, where students will develop their creativity and social skills. There's also a Teen Art Program to help beautify the community.
Furthermore, you can attend Open Studio, where you're allowed creative freedom and experimentation. But, if you prefer help with art therapy, then enroll in one of their individual sessions.
theArtRoom: Where Self-Expression Is Celebrated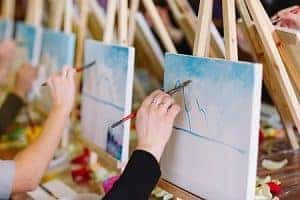 At theArtRoom fine art studio, there are a range of classes that "encourage creativity, exploration, and self-expression." They're taught by practicing artists who work with students on an individual basis. Each instructor works hard to foster not only self-expression, but a positive attitude, as well.
Individuals of all ages and skill levels are encouraged to take a class here. Additionally, you can book a birthday party for your creative son or daughter. This 1.5-hour party comes with two instructors, an hour-long art project, and 30 minutes for cake and presents.
Whether you want to take a formal class, or enroll in Open Studio, you're welcome to explore all forms of art here.
Enroll in an Art Class near Danvers MA Today!
If you're looking to express yourself through art, we highly recommend taking a class at one of the above studios. So, don't wait. Sign up for a Danvers, MA, art class today!