Used Car Dealer Danvers, MA
As a used car dealer in Danvers, MA, we are pretty intimately acquainted with everything this town has to offer. We've eaten at its many restaurants, shopped in its excellent boutiques, and frequented its most famous attractions.
For example, anyone who lives in Danvers knows how important history is to the town. If you're looking for the full Danvers experience, then you've got to take in some of its historical sites, like the Rebecca Nurse Homestead or Glen Magna Farms.
However, there are plenty of fast-paced attractions in the area, too. Sky Zone Trampoline Park is perfect for kids and parents alike, as is the CoCo Key Water Resort.
Getting to and from these excellent local sights shouldn't be a problem with the help of our Danvers, MA, used car dealership. As soon as you're in the market for a new ride, you can count on us.  Contact us today to start your car buying process.
Used Cars near Danvers, MA
Used cars are a great choice for the Danvers area. Especially the cars at our used car dealership. Having been thoroughly examined and refurbished by our skilled technicians, these cars are as like-new as possible. You may not even realize they have miles on them until you glance at the odometer!
We like to make it as easy as possible for you to find your used car. That's why we've made our entire used inventory available online for perusal. Check it out today to find your next car from the comfort of your own home.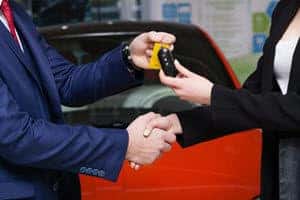 Afterwards, you may want to give us a call to schedule a test drive. If you're having trouble deciding which car is the best choice for you, test drives are a great idea. Nothing will solidify your choice quite like getting behind the wheel.
If you think you've found the perfect car, then the next step is sitting down with our finance team. During this process, they'll take care of the bulk of the work. All you really have to do is provide them with some basic information, and they'll have your loan secured in no time.
Stay Up to Date on Your Car's Service
Beyond just providing drivers with a wide selection and great pricing, our used car dealership provides Danvers, MA drivers, with reliable service. And we're not just talking about the routine maintenance, either-we take care of all repairs, big and small.
Scheduling a service appointment is easy, too. All you've got to do is contact our technicians either online or over the find, and we'll set a date. Your car will be back on the road in no time at all.
Check Out Our Used Cars for Sale in Danvers MA
Here at our Danvers, MA used car dealership, finding your next car isn't just easy. It's fun, too. You can see this for yourself by visiting Ira Toyota of Danvers. We'll have you behind the wheel of your next used car before you know it.