Top Sports Bars Peabody, MA

There are many reasons why people love watching football so much. It brings people together when they're cheering for the same team. When that team wins, they get an emotional high that can carry on into the next week.
While you could watch football at home, it's much more fun to catch a game at a local sports bar. So, what are the best sports bars for football season in Peabody, MA? Keep reading to find out!
Lazy Dog Sports Bar: Where Every Seat Gives You a Great View of the Game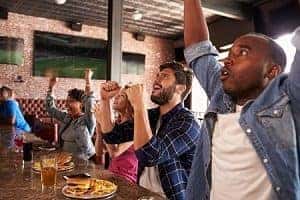 Lazy Dog Sports Bar was established by the Dill family in 2006. The manager, Tom Dill, actually has over 30 years of experience in the restaurant industry. That's evident when you walk in, as you'll feel welcome in this family atmosphere. Plus, you'll get to enjoy some traditional pub favorites and other tasty meals while catching a football game.
While there are a lot of yummy options, we recommend getting the Steak Tips entrée. They take 3/4-pound of their famous certified Angus steak tips and marinate them in a secret recipe. Choose a side, such as fries or baked beans, and get a cold glass or bottle of beer to drink.
See what other menu options are available on the Lazy Dog Sports Bar Facebook page.
Sidelines Sports Bar & Grill: Come for the Football, Stay for the Wings
At Sidelines Sports Bar & Grill, you get more than just a great spot to watch the game. You also get to enjoy some ice-cold beer, premium spirits, and various daily specials.
Plus, you'll have a large menu with yummy appetizers, pasta, pizza, and sandwiches to choose from. If football is playing on a Sunday, then stop by for some tasty brunch (Steak & Eggs, anyone?).
However, for the rest of the week, we highly recommend getting their mouth-watering Sidelines Wings. If you're sharing with friends, then get the 21 Wings that comes with three sauces and two dips.
There are 16 signature sauces to choose from, such as Honey Mustard, Spicy BBQ, and Garlic Parm. As for the dips, choose between Ranch, Duck Sauce, Blue Cheese, and more.
Check out the wings for yourself on the Sidelines Sports Bar & Grill Facebook page.
Tony's Pub & Grill: Gather with Friends to Watch Football
Tony's Pub & Grill has been around since 1970, with drinks on tap and some of the best steak tips in town.
Take a seat at the bar and watch some football on one of the 26 flat-screen HDTVs with surround sound. You can even play some Keno with friends during the commercials.
Get a glass of an imported or domestic beer, such as the Budweiser signature draft, and take a seat at the bar or in a booth.
You'll want to start your meal with some homemade Crock of Chili with cheese and onions. Then, enjoy some steak tips in sandwich or entrée form. The sandwich comes with fries, while the entrée comes with fries or rice and vegetables or a house salad.
See some tasty-looking menu items on the Tony's Pub & Grill Facebook page.
Visit a Peabody MA Sports Bar Today!
This football season, you'll want to visit the best sports bar to cheer on your favorite team. Luckily, all three of these spots are great options.
So, don't wait. Gather your fellow football fanatics together, and stop by one of these sports bars in Peabody, MA, today!