Top Bed and Breakfasts near Me Danvers, MA
When you're planning a trip or a romantic getaway, you'll need to make preparations, like figuring out where to stay. While there are several hotels across the Danvers area, why not stay somewhere a little cozier and full of character? Danvers is home to some pretty interesting bed & breakfasts, but figuring out which one to book may be tricky.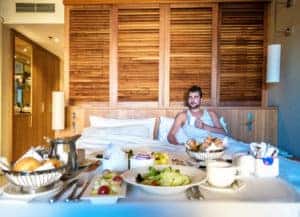 That's why we've stepped in to give you our list of the top bed & breakfasts near you in Danvers that you can stay in!
Amelia Payson House
16 Winter Street, Salem, MA   Facebook
Nancy and Jim Amara both have extensive backgrounds in science, but running a bed & breakfast is their passion. Their home, the Amelia Payson House, is beautifully laid out and provides a warm and inviting atmosphere to all of their guests. There are three unique rooms available that offer cozy beds, private baths with access to the guest lounge, a covered deck, and a gas fire pit for romantic evenings. A full breakfast is offered every morning of your stay. Book a room at Amelia Payson House for a cozy and relaxing weekend.
Brimblecomb Hill
33 Mechanic Street, Marblehead, MA
Brimblecomb Hill in Marblehead has a rich history dating back to 1721. This colonial-style home has seen its fair share of owners, but now you can stay in one of its three unique rooms. The Deck Room and the Path Room offer beautiful views of the garden, while the Isaac Mansfield room, named after the first owner, features a four-post bed and overlooks the many historic homes in the area. During your stay, there are plenty of historic landmarks and attractions that you can admire during your visit at Brimblecomb Hill.
The Daniels House
1 Daniels Street, Salem, MA   Facebook
If you're a lover of history, or you appreciate antiques, then you may want to stay at The Daniels House in Salem. This home was originally built in 1667 and stands as the oldest bed & breakfast in town. The home features a massive collection of antiques like pottery, portraits, and furniture that makes the bed & breakfast a museum, as well. They also offer a variety of cozy rooms to choose from to help you plan your historic stay at The Daniels House.
If you're planning a trip near Danvers, or you simply want to plan a romantic weekend, any of these accommodating bed & breakfasts can help you get the most out of your stay.