Local Spotlight: Vibe Food Truck

Think of the last company function, birthday party, or fundraiser you attended. Did it have a tricked-out food truck that doubled as a DJ, gourmet kitchen, and cocktail bar on wheels? No? Let's fix that.
Whether you're a business owner in Danvers, a planning committee member for an upcoming festival, or a family member looking for some exceptional food for a big birthday bash, bring the kitchen to you by booking Vibe Food Truck.
This standout mobile kitchen and more serves scratch-made, Italian American fare with plenty of flair. Learn all about what this unique food truck powerhouse can bring to your next event in the Boston area.
Unforgettable Food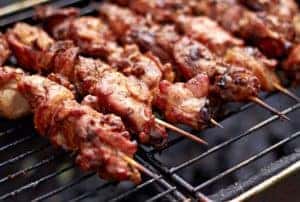 Can you think of two cuisines more tantalizing than a hearty Italian meal or a filling platter of BBQ?
This is where meatballs made from scratch and classic chicken parm meet juicy, tangy ribs, hot dogs grilled to perfection, and gourmet mac & cheese. Are you drooling yet? CEO and Head Chef at Vibe Food Truck, Paul Zermani, takes pride in giving the family recipes he grew up with a modern twist by masterfully marrying Italian and American cooking on his food truck menu.
Whether you choose Vibe's Italian Sweet Sausage Burrito with sautéed peppers and onions or their Tuscan BBQ Steak Skewers that make the perfect handheld bite, the ultra-fresh food whipped up by Paul and his team is sure to wow and satisfy your guests. Our favorite? Vibe's signature Italian "Lola" Meatballs topped with red sauce and melted parmesan.
Custom Cocktails & Monumental Music
How about some drinks to accompany your delectable plate of pasta or sizzling panini? Vibe's got you covered there, too.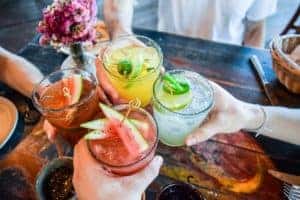 Not only can Vibe offer beer or wine at your event, they can really help you up the ante by designing a signature drink for your celebration, such as a pretty sangria that incorporates the birthday girl's favorite fruit or a refreshing whiskey drink that features your company colors. Vibe bartenders are TIPS certified mixologists ready to set up a full bar featuring your customized drink menu.
Professional outdoor speakers affixed to Vibe's mobile kitchen round out this party on wheels' good-time trifecta: Vibe Food Truck is just as good at spinning tracks as they are at grilling meats! From weddings to birthday parties to corporate events, DJ Paul Z. is ready to soundtrack your event and get your attendees up and on their feet.
Catch the Vibe!
Vibe is more than just a food truck. It's an experience! Between mouth-watering food, delicious drinks, and tunes to take your celebration to the next level, Vibe Food Truck will have your attendees raving about your event for years to come. Get Vibe's vibe: Like them on Facebook to see which festivals they'll be catering around Boston, follow them on Instagram to see their menu in action, and connect with their event masters today!