---
Photography Theme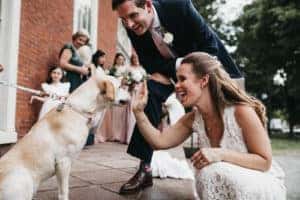 When you're planning your wedding, you likely have a certain vision or theme for your wedding—whether it's boho chic, black tux, offbeat, or something else—and want your photos to match. Luckily for you, Kelly at Hourglass Photography is extremely flexible with her portraits.
While she could be classified with a natural romance tag thanks to her expert use of natural light and delicate images, Kelly knows that it's your day and your memories to capture.
That's why she'll work with you to get all those must-have pictures while incorporating the small details—like the way your veil blew in the wind while you recited your vows or how you gently held your bouquet moments before you walked down the aisle—that you won't want to forget.
Life After the Wedding
As someone who knows that family is the heartbeat of life itself, Kelly loves returning to photograph couples years later with their growing family. As a mother herself, she knows that the years fly by before you're ready for them to be in the past. For that reason, she is an advocate about freezing those everyday moments you'll want to look back on one day.
These memories can't be preserved in a photography studio, so Hourglass Photography will come to your home, your favorite park, or wherever you and your family are most relaxed.
In the moment, you might not think making popcorn for your regular Friday family movie night is worth bringing the camera out for, but one day when your kids are grown you'll be able to look back on the good old days and remember them like they were yesterday.