About Rouvalis Flowers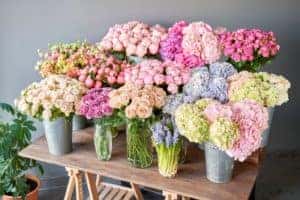 Located in the historic Beacon Hill neighborhood, Rouvalis Flowers has successfully built relationships with customers that span not just years but generations. They have built their reputation on using only the freshest and best available sources from both local farms and international locations as far away as New Zealand, South Africa, and South America. Every piece they create can be hand-delivered six days a week.
Their boutique shop offers not just native and exotic plant species, but also containers of just about every size, shape, and design. If you're looking to create a custom gift basket or decorate your home, you can find what you need here. Their whole staff is dedicated to providing personalized, professional, and expert service at every level.
---
Meet the Rouvalis Team
Rouvalis is owned by Emily and Sean, New England natives with a lifelong love of gardens and landscaping. Emily spent years in retail working in garden centers, which led to a formal education in landscape architecture. Sean also studied landscape architecture at Boston Architectural College. Both enjoy walking in the wilderness and getting immersed in the beauty of nature.
Shop manager Serena is a lifelong artist who spent her college summers working on Martha's Vineyard farms, where she learned a love for all flowers. Floral and plant designers Abbey, Katie, Jordan, Ashley, and Maureen bring decades of combined experience to the table, from practical floral design to formal education at prestigious technical schools.
Other important team members include garden maintenance expert Sebastian, delivery driver Shelder, marketing guru Abigail, and accounts manager Beverly. Each one works as part of the well-oiled machine that has made Rouvalis Flowers one of the most respected home and garden shops in the Boston area.
---
Garden Design Services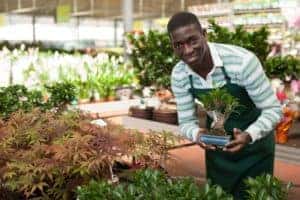 Rouvalis offers a wide range of garden design services for everything from home gardens to corporate landscaping. They offer elegant landscape options, including ornamental grass and colorful exotics, container gardens, and even rooftop deck gardens. Whatever your floral or garden needs are, they can advise and help. Other types of gardens in which they specialize include:
Courtyards
Seasonal rotations
Commercial gardens
Custom designs
Local and exotic plants