Auto Maintenance FAQ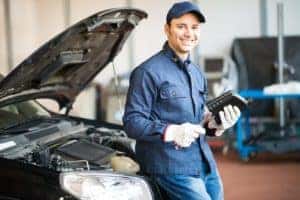 Routine maintenance is crucial for keeping your vehicle healthy and performing well around Danvers, Peabody, and Salem. There are many basic maintenance tasks that need to be done at various times. You may be wondering what they are, why they're important, and when they need to be completed.
Luckily, the team at Ira Toyota of Danvers put together this auto maintenance FAQ sheet. Continue reading to get answers to your questions and contact us when you need any type of automotive service.
Oil Change Frequently Asked Questions
Q: How Often Should You Change Your Oil?
A: An oil change should be done every 5,000 to 7,500 miles, depending on your vehicle. Still, you'll want to refer to your owner's manual for the recommend interval.
There are some automobiles that can wait 10,000 miles before needing an oil change, especially if they're equipped with synthetic oil. Then, there are other vehicles that'll need an oil change every 3,000 miles, specifically if they endure more severe driving conditions.
There are several examples of severe driving conditions, some of which include driving on sandy or muddy roads or towing/hauling heavy equipment.
Q: How Long Does an Oil Change Take?
A: If you get an oil change done at a dealership, it could take anywhere from 15 to 45 minutes. It all depends on the other services that are completed alongside the oil change.
You could complete an oil change yourself, which could take between 30 and 60 minutes. However, this is a job that you might want to leave to a professional. They have years of experience performing this routine maintenance work, which means it can be done quickly and correctly the first time, every time.
Q: What's Included in an Oil Change?
A: When you get an oil change, a service technician will change the oil and the oil filter. Oil is used to lubricate the engine's moving parts and keep it cool while also removing any impurities. Whether your vehicle uses conventional or synthetic oil, getting regular oil changes is crucial to ensure a smooth ride and increase the longevity of your automobile.
The oil filter should always be replaced at the same time as the oil. This filter is what removes debris from the motor oil. Over time, the filter can get clogged, which would lead to contaminants getting inside the oil. By replacing it regularly, you'll prevent this from happening.
Q: What Is Synthetic Oil?
A: Synthetic oil is a type of oil that helps keep your engine clean and running effectively. After being pulled from the ground, it gets distilled and broken down to its basic molecules. Then, the molecules are modified to meet the demands of more modern engines.
With synthetic oil, you get cleaner oil with fewer impurities. Plus, it'll flow better in much colder temperatures and protect better at higher temperatures for year-round defense.
Brake Repair Frequently Asked Questions
Q: How Long Do Brake Pads Last?
A: Brake pads can last anywhere from 25,000 to 65,000 miles. This wide range stems from the fact that many factors can affect brake pad life, which includes the type of brake pads you use on your car.
Two major types of pads are semi-metallic and ceramic. Semi-metallic brake pads provide a great deal of stopping power but may not last as long as ceramic brake pads. On the flip side, ceramic brake pads last a long time, but may not be as responsive as semi-metallic ones.
Car Battery Frequently Asked Questions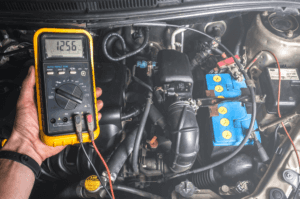 Q: How Long Do Car Batteries Last?
A: Car batteries usually last around four to five years. You should find a date written on the battery case, which will tell you if the expiration date is coming up soon.
However, there are several warning signs that may indicate that the battery is starting to fail. If you try to start your car, but the engine cranks slower than normal, then there may be issues with the battery.
Another sign could be a battery leak, which could cause corrosion around the posts where the positive and negative cable connections are located. The corrosion would need to be cleaned off; otherwise, your vehicle may not start.
Tire Frequently Asked Questions
Q: How Often Should You Rotate Your Tires?
A: Tires should be rotated every 5,000 to 6,000 miles. A good rule of thumb is to get this maintenance task done at the same time as your oil change.
Tire rotations need to be completed regularly to ensure they wear evenly. This process will extend tire life, so you don't have to replace them frequently, which will save you money. Plus, even tire wear is important for balanced handling to help keep you safe on the road.
Schedule Service Today
Now that you know the answers to the most common auto maintenance questions, you may be wanting service near Danvers, Peabody, or Salem. If so, then don't wait. Contact the Ira Toyota of Danvers Service Center today!