Best Burgers near Me Danvers, MA
Fine dining certainly has its perks. But every now and then, all you really crave is something as simple as a juicy, mouthwatering burger.
Among the many excellent restaurants here in the Danvers, MA, area, you'll find three burger-slinging restaurants that redefine the limits of this tasty and timeless classic.
With all the accolades A & B Burgers has received, it's not hard to imagine how good their burgers are. Though if their Best of Northshore 2017 award isn't convincing enough, all you've got to do is look to the ingredients themselves. Their Japanese Wagyu patties from 7X Farms are literally cattle-bred for finely-marbled, juicy flavor.
Top Bun: We can't resist A&B's Sweet & Salty Burger, topped with burrata cheese, fig jam, bacon, and arugula.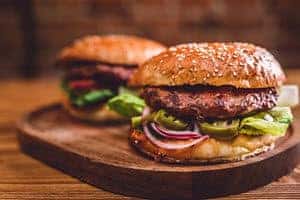 With its pole position on the Pickering Wharf, the views at Longboards Restaurant & Bar are almost as good as the menu itself. And we're not just talking about the food menu-Longboards also includes a very unique, meticulously selected list of draught and bottled beers.
While their sandwiches and famous lobster rolls have received quite a few awards over the years, their all-beef, house-seasoned ¼-lb. burgers might just be the main draw.
Top Bun: The Breakfast Burger, with a fried egg, bacon, crushed tater tots, and American cheese, is a perfect no matter the time of day.
The simple-named Sauce is well known for two things: it's spicy, homemade wings sauces and "addictive" burgers. If you're stopping in, you'll definitely want some wings for an appetizer (we implore all brave souls to try the Buffalo Grandpa).
Their burgers, all of which come served on a griddled brioche bun, are piled high with some amazing combinations of toppings and condiments.
Top Bun: You better wear some loose-fitting pants if you intend to order the delectable Fat Kid Burger, which comes topped with literally everything but the kitchen sink.
We're Sure These Restaurants Will Be Pleased to Meat You
So, feeling hungry yet? After reading through a list like this, how couldn't you be! Luckily, these three Danvers, MA, restaurants are always happy to fill the hole in the pit of your stomach. Check them out the next time you're out on the town!